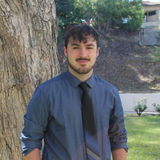 Tristan R
Skilled Screenwriter Ready to Work!
Writer in Los Angeles, California
Writers are a dime a dozen these days. For every wordsmith stepping away from the glamor of a writer's lifestyle, a new pack of fledglings are eager to take up his or her mantle, synonyms a blazing. Or at least it seems that way. So how does a hard-working, young writer like me separate himself from the deluge of not-so-snappy lines and half- baked ideas? Here are the top three reasons to choose me for your writing needs! Passion. Perhaps the most basic of requirements, I truly love to write, especially when I get my hands on something with a bit of creative leeway. Over the last seven years, I have written a diverse collection of short stories, short films, episodes for television, and feature-length screenplays in both personal and professional settings. I excel at crafting fascinating plot lines populated by colorful characters, providing audiences with unique, heart-warming, and oddly satisfying adventures. I love to dream, to tell stories, and to develop fantasies, but, above all, I hope to ignite a passion in others just as my favorite stories have inspired me. Work Ethic. Nothing pains me more than the declaration that writers have it easy. Like anything, the best of the best earn their merit by demonstrating a ceaseless dedication to their craft. While I am far from the best, I apply this principle to each and every project I take on. I am a tireless worker, who is far from happy unless my product meets my employer's and my own standards. You will never ever have to worry about late or sloppy work.I am obsessively organized and unfortunately renowned for my four- layer To-Do lists. I really wish I was known for something a bit cooler, but at least its something to brag about here. Experience. I will shortly be earning a bachelor's degree in psychology and film studies, a background that has gifted me mountains of somewhat unnecessary knowledge and years of experience with scholarly research. Creatively, I have spent the last three years performing writer-for- hire jobs, completing over thirty short films, television episodes, and feature-length scripts. I have experience with a wide variety of genres, enjoy different formats, work well with or without given prompts, and can match the expectations of whoever I might be writing for.
Share This Profile
Find Writer in Los Angeles, California
More in Los Angeles, California