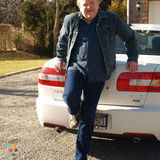 Karl H
The Best Freelance Writer In The World!
Riverhead, New York
Last seen over a week ago
Want to connect with Karl?
Writer in Riverhead, New York
KARL HOSCH Resume... Just part of it!!! Personality Profile Intelligent, creative, inventive, honest, moral, non-smoker, non-drinker, organized, sensitive, kind, easy to get along with, funny, deep thinker... thinks Way outside the box, lives Way outside the box, great observational and analytical skills, very spiritual, more common sense than almost anyone and has an innate ability to interrelate concepts, ideas, theories and facts to achieve and create positive solutions. Skills A main interest is writing screenplays, especially ones whose subject matters are mostly hip, youthful, romantic comedies and up-beat relationship films (NEVER violent, negative or horror themes). Very prolific with 11 completed with 16 presently in various stages of development. His ideas and ability are limitless and he will continue to pursue this avenue forever. Also, an immediate goal is to take all the positive aspects of his personal evolvement and share them with the world. The major thrust at this time, is with the development of books and related materials that can be effectively used and assimilated by children. Positive behavioral attitudes towards such things as peace and love will be the unique conceptual focus of all the materials. In fact, the positive interplay with children and adults with these materials will only increase the effectiveness and constructiveness of the whole venture. He is very talented at combining ideas and other concepts such as product Branding, feel good themes and uplifting educational modes. These talents have been honed over the years, starting with writing many infomercials, movie pilots and the like. Is flexible, working extremely well with producers, etc. to help produce quality product that is fun, positive, highly entertaining and up lifting... that as mentioned, can be used for effectively and positively branding products and relating constructive ideas and concepts. Also, an extremely talented researcher and has the ability to write very important books. Present books range the gamut from awesome, insightful and vital Political Books and Economic Treatises, to Humorous Social Satire, to expounding on very uplifting, Spiritual, Philosophical and Psychological topics. Great analytical skills also make him a very astute and totally undogmatic and unbiased commentator on subjects such as politics, economics, media, behavior 1 control, social issues, environmental issues, psychology, philosophy and spirituality... etc. Career Highlights - So Far! Education - B.S. From C. W. Post College of Long Island University in Brookville, NY. Class of '73. Major in Finance with a Very strong minor in Filmmaking. One of Karl's main flagship endeavors at present, is a project entitled GREEN INSPIRATION. GREEN INSPIRATION is an awesome trendsetting project that encompasses the building of the GREEN INSPIRATION PROTOTYPE DEMONSTRATION AND CONFERENCE CENTER. It's goals are to become the epitome of completely GREEN architecture and the education center for implementing GREEN and HEALTHY life style modes, that will be exemplary to the world. In the Summer of Junior year of College, he made a short film entitled, THE HERO. This 16mm 81/2 minute short was blown up to 35mm and became one of the last short subject films bought by Columbia Pictures for National and International Theatrical Distribution. It was an award winning film that was considered in '74 for the LIVE ACTION SHORT category of the Academy Awards. THE HERO has been used as a teaching tool in such prestigious film schools as NYU. Was a director/producer/cinematographer at a commercial UHF-TV television station. Produced specials, local origination shows, did publicity photography and worked on many in-house and regional commercials. Also wrote and directed numerous CATV shows that were for leading markets. These shows were entertainment and infomercial in nature. Writer, Producer and Director of many motion film projects... ranging from Producing pilots for United Artists Theater Corporation... to his own film, entitled RYDER, P. I. This film was the very first film in the world that was shot with professional video cameras and recorders and recorded on Sony 1" professional videotape. The film was then transferred to 35mm film and again, was the first film in the world done this way and to have a wide distribution in theaters by major film distributors. RYDER, P. I. received a great review in VARIETY and went on to video release, DVD release and is now available on Netflix. Two major claims to fame for this film are that it is media star Howard Stern's first movie... he has two 3 minute cameos. Also, due to the fact that it was the very first video/film production in the world... Karl was a leader in this field and even beat Star Wars' George Lucas by 17 years with this technology. 2 Also, in the Sweeps Period in November of 1993, the nationally syndicated TV show "HARD COPY" featured Karl, "RYDER, P. I." and the Howard Stern connection. And again, in the Summer of 1996, the national TV show "INSIDE EDITION" featured Karl and starred clips from "RYDER, P. I." Also again, "RYDER, P. I." was very favorably featured with national critic Jeffrey Lyons on "INSIDE EDITION" in March of 1997. Has worked with and written for young comedians at the American Comedy Arts Institute in New York City. Wrote for Rick Overton and was the 1st writer for famous comedian George Wallace (the #1 - 10 PM male draw in Vegas). Over the years, other talents included Rosie O'Donnell, Bob Nelson, John Mulroney and the infamous media personality Howard Stern. Has extensive recording studio experience that comes from doing soundtracks for motion pictures and independent audio recording. He has produced several comedy records and has composed and recorded his own music. Has written, produced and/or directed several film and video pilots. Many have been for independent companies and one in particular was entitled, "NORTHAMPTON WEEKEND" and was lensed for United Film Distribution, a then subsidiary of United Artists Theaters, Corp. In addition to the many other TV and radio appearances, Karl was featured on "HARD COPY" again in the fall of 1996, in a story that focused on video footage he had taken of a young Rosie O'Donnell performing at a comedy club. She was with an improv group called "The Laughter Company," which Karl was working with in the early to mid-1980s. "HARD COPY" again used his footage in another story in the Spring of 1997 and the "E!" network also used the footage again in a biography on Rosie. When she was just starting out, Karl also edited her personal audition tapes. One of the very important flagship books that Karl is presently marketing is entitled COME NOVEMBER. It centers around the recent election of the President of the United States. It deals with the most plausible scenario that ANYONE has yet suggested that would enable the election of a President that would be ENABLED and EMPOWERED to give America back to the people. It is a Vital, Timely and Very Important book that all Americans must read, digest and understand in order to help preserve the Life, Liberty and Pursuit of Happiness... along with the spirits of Freedom and Justice... AND our precious Bill of Rights. These were the goals of our first in history... experiment with the noble dream of Democracy... that was the awesome hope for us all by our great Founding Fathers. Recently, has done 45 hours of Streaming Radio Broadcasts that focused on politics... from the Declaration of Independence, the Constitution and Bill of 3 Rights... to current American and World financial and political issues, including the 2012 Presidential Elections. Also was recently the exclusive guest of a Worldwide broadcast and again expounded on a variety of America's pressing political and financial issues. Other areas that Karl has had experience in, are being an entrepreneur in running his own small sales Corporations, and working with developing some of the first custom commercial Metal Oxide Semi-Conductor Computer Chips (CMOS), whose technology has now become the basis for most of our whole digital electronics revolution. Karl's creative and entrepreneur list goes on forever... and he is willing to discuss it with those who see the value of a person that has the ability to think, be creative and do his best to help the world achieve its collective best. 4
---
Similar Profiles Nearby
Near Riverhead, New York

Joseph I
Let me write Christian literature of any kind, any biography, and novel for you

Aaron G
Professional Writer

Jennifer C
I'm a honest writer who loves to blog about beauty and wellness. My best writing is done when kids are asleep.

Madison O
A young writer blooming into an author.

Abigail B
A writer looking for work
Find Writers in Riverhead, New York
More in Riverhead, New York
Want to connect with Karl?
Similar Profiles Nearby
Near Riverhead, New York

Joseph I
Let me write Christian literature of any kind, any biography, and novel for you

Aaron G
Professional Writer

Jennifer C
I'm a honest writer who loves to blog about beauty and wellness. My best writing is done when kids are asleep.

Madison O
A young writer blooming into an author.

Abigail B
A writer looking for work