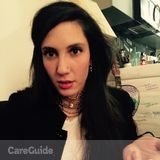 Sara J
GHOST WRITER TODAY! . Memoir: NYC-bipolar-full year of hospitals -SOLUTION
Boston, Massachusetts
Last seen over a week ago
Want to be hired by Sara?
Writer Job in Boston, Massachusetts
(From Craigslist - feel free to ask more details, I'll be at McLean hospital for next 2 weeks. I downloaded an app that organized my pictures today, one year ago, 2, 3, 6.... 6= college, manga laude, right Before I was diagnosed, 3 - after first "manic episode, before serious treatment needed. 2 - my first puppy after i moved back from indian to NYC and began working on opening a very high end jewelry store (Indian brand) on Madison Ave and 76th.... 1 year ago the store opened in May... June I had to leave, July, August (post $40,000 treatment center and different meds...) I got engaged and unknowingly pregnant (found out I was 4-5 months pregnant in November and after a week had to get the procedure) since returning back from one of the best treatment centers for "dual diagnosis"... I have had my psych meds make the birth control less effective = pregnancy, medication induced seizure? (Led to me losing nearly an entire day and getting arrested for shoplifting - charges all dropped as I didn't actually steal anything and when they released me they found me wandering the street in lower Manhattan with no belongings at 3AM after leaving jail??? (Had been and was sober for last 2/3 months then...), then sept included my fathers 70th birthday that I was co-hosting simultaneously trying to manage my "new disorder" (after years of being able to control it), which led me back to as the choice felt like survival - either relapse so you can talk to people for 3 hours and make a speech without breaking down or have to think that your ex (baby daddy - now unknowingly 1-2 months preggers) has now admitted to past MAJOR drug issues, taking advantage of me in the middle of the night, keeping me up every night I was scared so during the day of the 3 day party in sun valley my friends and people began to hate me because I wasn't even able to get out of bed until 4 - 6pm as I couldn't take my medication until I tried to fix everything else which left me up knocked out from heavy sedatives - as the only way I could then get up, and pretend to function in front of 150 of my fathers best oldest and highly successful friends who have or know about me, illness etc because as my dad is X (loving, cruel, sociopath with no memory of his abuse and only thinks he does everything to help me....) my fear left me feeling as though I had no choice. Actually, since then, my life has felt like staring down 3 paths and they are all bad so take the "best" right? As time went on... I then thought ok time to get sober completely on my own will and accord. Sunday morning October. 1 I think I went to an AA meeting and did 3 months or so... Until again, one night I had two drinks as I kept telling everyone I needed help, different help, medical help! Perhaps if anyone beleieved me I wouldn't be laying in a hospital bed alone right now.... That day I lost hope as it was post pregnancy, lost friends, home, moved to CA to try to get help and away from my parents and nearly died as the place took me off my meds cold turkey, I was pregnant, and there wasn't enough food even though it was in Malibu and $30,000... My parents didn't believe me until my dad's secretary got me out of there.... Apparently people had try to run away and were INSANE with terrible treatment, some people were there for years. They told me there that I shouldn't talk to my parents, my "therapist" told my mother I wanted to use , or did even though I had been sober for about 3 weeks prior and then after.... This is why I desperately need help. All I can say is it got worse, mentally and physically to a point that right before coming here I got my apartment back in the west village and realized that was what I was fighting for as after I returned back from California I spend 6 months without my own home in NYC.... This killed me too. Every house I was able to stay at was filled with abuse and hatred and insults as to why was I so lazy I didn't leave the house today? Then came my chronic yearly stomach issue (likely stress or a parasite...) I was sick EVERYDAY for 6 weeks, could barely eat, went to hospital 3 times for IV and feeding tube, tests everything but they found nothing and people again stopped beleieving me even though I lost 25lbs in 6 weeks. One day it began to stop - new meds gained 30lbs and still worse. Oh, Christmas and New Years spent alone and in a FULL manic episode induced by a new mood stabilizer - Latuda, in ten days I don't remember much, but knew the mania was coming and couldn't stop it no matter how hard i tried and no amount of medication would put me to sleep... My mother left me and was in Mexico even though I asked her to stay and my doctor told me I should have her stay I was ashamed guilty couldn't believe my life had to resort in me asking my mom not to go to Mexico over New Years and leave me completely alone while I was so sick and had really no friends at this point.... She left the next morning and since then I've had MAJOR insomnia issues causing everything to get worse... Different things keep me awake at different times, pretty much realizing the truth about my life now and illness and needing to accept it again as it's changed and there is no cure: bipolar illness can go from 2 - 1, which they think happened from the medication they gave me to help it and that week when I started to almost have full delusions. Then more and more and different medicine and I felt like I kept begging for help --- and people were abandoning, why?

This illness as fatal is not understood and accepted by everyone. In looking at my life I can see I'll always struggle especially with medication as there is no way to tell if a pill will work and for how long... So what is the other piece?

Bipolar is based on these kind of two moods, correct? I realized... There was so much trauma and psychological abuse I never really advocated for myself and was too scared to say "I feel like I've been slowly dying for years and no one has helped me..." I realized it was my soul that was dying as in all these pictures too I've lost all passion in my life and the moment I stopped being "me" - a crazy artist from NYC, ski racer, sober 5 years, didn't give a , highly intelligent a million friends money balcony on 5th ave...... It was when I moved back to NYC from India after dating the first love who I feel left me because of my illness. I think from then on, that idea never left my mind so when I used to have confidence and not care that I was crazy as I was already bipolar for a couple years .... The last year I've lost everything, more than everything. each time, right before I feel like I need serious help and ask for it (on my own accord) ... It seems as though the symptom right before what's treated and never the whole person. I think my greatest strength and weakness now is my strength and ability to persevere and sit in lots of pain for years as my parents convinced me I was a liar, "no pain no gain" I faked sick as a kid because I hated the all girl (real gossip girl school) on the upper east side as my creative brain was always different. I've always had racing thoughts - now they are just worse because I'm sick and have so much stress in my life I see no path anymore. I'm not writing this feeling depressed I'm actually saying "I don't think there is a path right now" - that's about last month as the serious nature of this worsening illness hit me. I was "dying" and no one called me back or seemed to care and I didn't get it? For so long, years I've been telling people I need help - then it hit me, I never got it so my asking from help seemed like horrible complaints for years with me not trying to help myself, get a job and then add mania and rapid speech I looked like I had turned into a self-obsessed liar. In some ways I was... But I was fighting for my life and help and searching for anyone to just really hear and UNDERSTAND ME. My parents started to tell my doctor I was crazy and paranoid and writing all these emails and I had no friends - later finding out both my parents had contacted my friends telling them I was crazy. My "friend" tried to steal my apartment and was planning it the whole time with my dad, my "best" friend had been talking to my father the whole time and one day out of the blue after she stopped talking to me (for reasons i didn't understand or know...) she said I think it's so up you're accusing your parents of verbal abuse.... My brother left our family because of them, but they are so smart, alone and never do these things in front of people. And they don't know and what breaks my heart is I believe they will me as both have attempted to bankrupt me and claimed I stole money even though I found out I now have a house in my name bought with my trust, our ski house in sun valley, my happiest place in the world and skiing - my last passion... My dad punished me I guess and refused to let me come out there all winter while simultaneously having his friends call me and say your dad loves you so much you need to talk to him --- does anyone read between the lines?!

I feel like I have no choice but to take a different path and advocate for myself as no one has for me. Even here, three of four doctors told me about how i had a shopping problem and stole $70,000 from my father - I don't really know how that would be possible, though if i knew now. I probably would have done it like 10 times already, ha. I've thought of myself and been treated as if I was a bad person but I'm not, I'm actually one of the kindest as what hurts me more than this pain is hurting anyone else. I'm happiest when I'm weird, making art, traveling, working for hospice, living in Burma, and now I realized that by looking back at my narrative, relationships, crazy insane hilarious dark events, and being honest about this illness as I don't think many people would have survived as I did the last 1-10 years if my parents didn't basically raise me to feel guilt my whole life as I was never allowed to challenge them. As I love them more than anything and they love me our co-dependence, mainly their depencence and obsession with me and using me until I have nothing left to make them happy... Which will never happen because neither of them realize how unhappy they are or at all. Both 100% self-made, mother, with no degree was editor of a huge fashion publication and now known to be one of the top 50 most influential people in the beauty industry has also lived alone for 30 years with cats and not one date. Father, similar, has chrons and believes I should shut up and go to the gym and That of course there is a cure for bipolar as I think he 100% is... He lives in his own alternate reality between a hotel in Manhattan, a huge 6 bedroom house in the woods with a gym cooks etc so when you're there, you have NO reason to leave the property (major source of fear), has his own private equity fund, taught at Darden, genius. They are both geniuses and love me so much that they can't accept or see all the abuse, not just that, they are able to put it in a box and forget that when I even say "I feel like you're criticizing me" (after being called a failure and my dad theatened to kick me out of the car when I texted someone and didn't put my phone away fast enough on our way to see my doctor) he magically forgot? So i say - "you hurt me" and then ultimately and everything he gets angry and very volatile like my mother. I think they both feel such guilt for being such horrible parents they now can't let themselves see it at all....

All I know now is that I can't go back and keep repeating this cycle, treat a symptom get better, things change, lose hope, lose friends back in the same place. I always loved the support there was in AA but never felt like i really related and even in the 3 moths recently I desperately tried and nearly at every meeting I'd ask if there was a woman who is both bipolar and in AA as with me bipolar symptoms always come first vs. the addiction, as I don't believe I am, but have self-medicated in desperation... Even the last couple weeks at my lowest I believe I had 4 drinks because there was no substance making me feel better, not my meds, not sleeping, nothing! I was so scared I tried one last time to explain and talk to my friend about the illness and how I need love so much as I think it will be my first step to healing. After 2.5 hours and a very long recording or how I compared bipolar illness and its onset like an extra arm that sometimes is very helpful but usually hits other people without you noticing then is dramatic and if tired might knock you out and hold you down in bed, so I medicated to get up??? Imagine the cycle of mental illness:
From an outside perspective it looks like I'm a spoilt brat from the upper east side with no job and no need to work because I'm lazy and all I do is complain, I'll say how my parents hurt me but never deeper stuff as I also buried it inside me, then "help"! Pushes everyone away because no one wants to hear this stuff, really. I cannot tell you how many time people pushed for me to tell them and I even said you don't want to know etc so I tell them, then I come off as a self-absorbed princess with no morals when it is 100% the opposite. Like my brain upgraded or something but the wiring down to my speech and motor actions didn't catch up. Enough.... I feel it's a matter of life and death for people at this point - if you're alone and no one understands you because they can't and I haven't learned how to explain it in a way that makes sense... No matter how much medication you're own how can you be happy? 3-6% of the adult population has this disorder, it's extremely hard to diagnose and expensive and so much social stigma that there is fear in talking about it. "Feeling suicidal" for me today is now comparable to how I used to feel like "shitty" but emotions are on a sliding scale so yes, pre-bipolar 1-10, 10 feeling suicidal was X feeling, but now X feeling is like a 6 on my new awesom bipolar feelings scale so the meaning and treat that comes with that word isn't the same though it's serous because it was your old 10, but now you feel like there is a new 10, I don't know what that is. When I say I feel like I'm dying it's because i realize i now have fear that a "perfect storm" day could happen - rendering me a 10... Then what? If people don't know how much pain I've been in for years, how much worse it's gotten, I don't think about physical death even honestly that much as the last couple months I felt like my soul started dying and that was bad enough. In the past few weeks I have been working of a project with the HUGE goal to get an AA based like support system and network in place for bipolar illness as there is also a lot of wasted talent and I want to succeed again, help people, have my hands stop shaking so much I can actually make jewelry, I NEED PEOPLE TO BELIEVE IN ME AGAIN while I learn how to believe in myself. I have made no effort to contact anyone as I'm essentially in fear with the few people that still respond to my texts... I'm scared to even talk to them until I get out of this. I feel like I'm in a hole so deep feel of bipolar help to old taxes that I made it to China - guess my B.A. In mandarin could come in handy.

So, a comprehensive narrative helping draw upon my memories, photos, texts, feelings vs. reality? "truths" and to "come out" as I'm determined to help others and think part of the solution is forming an understanding community of people before the illness takes more lives away, friends away, most importantly your will, mind and confidence.

Here are some more links as I guess I'm all in. I'm prepared to continue enduring the pain and suffering, while getting the word out as if with all my resources and diligent effort to get healthy, i found it impossible. I listened to every doctor, accepted people telling me I was an addict, accepted friends saying "i'm using them, no one wants to be around me anymore, all I do is talk about myself..." Perhaps, if this finally gets finished, like NOW, I can stop because currently I see no other way out except either:
1. if you can't empathize, know this illness feels like you're dying even if you aren't and will steal your life without help and advice
2. treat the person, the soul, help each other, love each other and help me write this so people can understand that without family and friends, the path is quite grim
3. when i'm now able to talk to someone and feel heard it's as if that other half of me can breath and keep functioning, but my fear for everyone with this illness is they don't have that. In NYC there are hundreds of AA meetings around the city, as far as a support group for mental illness (bipolar and others...) there are 4 a week and pretty much it looked like this - people at the begging of the disease with help, knowledge, support and resources to the the silent people in the room then a few that I thought might actually me... One girl couldn't stop talking (somewhere between mania and fear), then I thought this girl is scary and insane - WHY DID I JUDGE HER? Even then I didn't understand... and now i see, without help, that could be me.
4. Lastly, back to the person, see who we were before the illness (mine at 20), stop trying to make us feel like we should be who we were because there is no one in the world that wants that more than me, but I realized it's both impossible and will make me hate myself. I'm very worried about the other supposed 400,000 people in NYC suffering from this illness as I don't know one person I've met in my daily life (outside of treatment centers) who is "doing well" and learning how to not just getting be but successful as I'm still full of ideas and ready to work I just need help as I can't communicate clearly anymore.

Goals:
- creating like a funny tell all accessible to everyone in case they ever feel something similar to me? the meds? family? sever lonely-ness etc and I will commit and do my best to help as I've demanded that of other people and am more than willing to help anyone as much as I can....
- researching how there is new data showing support, setting and accomplishing goals, telling your narrative and feeling heard and being understood mixed with medication can change someone's life when before (at least for me) everyone treats you as if you're just a liar and complaining to get pity --- this has been said to me many times even by friends of over 8 years, as if they forgot who I was deep down and lost faith in me and the more I tried the worse it got and the more I pushed people away. (sorry, this is the ranting that happens when your bipolar, already think and over-analyze your whole life, can't find a passion that helps you relax, and basically can't stop talking as it's like i'm scared because I don't know when the next person will speak to me again...)
- track sleep, medications, side-effects, and try to find the gaps/causes of severe changes and events if can be prevented. Or. keeping close inventory of the things you know effect your mood badly by looking at your story and keeping that at the forefront of your mind in daily life. It would be a dream come true if I could just tell people, "hey I'm feeling manic because last night i got sick to my stomach so I was up all night so I need to cancel plans because I'll just be all over the place and probably annoying..." instead of me forcing myself to see people, trying to hold it together, getting upset and being annoying and talking about myself and the whole time not realizing because I'm trying to be a better and different person. Instead, I want to take a path of acceptance and embracing my new self and now find new passions and tools to help me realize them and hopefully this will help others see what might get in the way for them.

Similar to this childhood gem:
https://....com
---
Similar Profiles Nearby
Near Boston, Massachusetts

Curtis T
Looking for skilled copywriters (erotica-focused) - Freelance (Anywhere)

Angel R
Looking for for writer, inker, penciler, colorist, editor, letterer, and designer to start a comic book publishing company.

Sara J
GHOST WRITER TODAY! . Memoir: NYC-bipolar-full year of hospitals -SOLUTION

Chanelle R
Contributing Writers for Tosser Magazine
Find Writer Jobs in Boston, Massachusetts
More in Boston, Massachusetts
Want to be hired by Sara?
Similar Profiles Nearby
Near Boston, Massachusetts

Curtis T
Looking for skilled copywriters (erotica-focused) - Freelance (Anywhere)

Angel R
Looking for for writer, inker, penciler, colorist, editor, letterer, and designer to start a comic book publishing company.

Sara J
GHOST WRITER TODAY! . Memoir: NYC-bipolar-full year of hospitals -SOLUTION

Chanelle R
Contributing Writers for Tosser Magazine