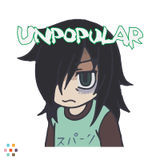 Michael A
Songwriter looking for a band.
Writer in Nashville, Tennessee
I'm looking for a band, or just buddies with instruments at least. I have a blog named Hero Of Contradiction, where I publish my work. Here is the link: http://....com/ I am looking for people who do not want to stick to a certain formula, people who like to experiment and don't mind controversy. I have many influences from all forms of music, including foreign music. I can pick up just about any instrument, but I've been told I'm a natural drummer. My biggest issue is instrumentals, I have but an old keyboard and no way to upload what I play on it to the computer. I am poor, el que come abajo. I have no method of transportation either, so finding like minded individuals isn't very easy in this town, this state, this country. So I am just posting this out of desperation. If you're looking to play an instrument for a living, and don't mind switching genres up anywhere from doom metal to trip hop, and, this is my own wishful thinking, wouldn't mind a female vocalist, you may be right for the position. Thank you for your time. Yoroshiku, and Ja ne.
Share This Profile
Find Writer in Nashville, Tennessee
More in Nashville, Tennessee