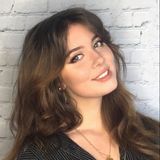 Lindsey M
Essay & Fiction Writer For Hire
Reasons to Hire Me
I've won numerous short fiction competitions
My work has been featured in several local publications
I was a star student!
Writer in Toronto, Ontario
It is a truth universally acknowledged that a student in possession of many assignments must be in want of an on-call writer. That's where I come in. My name is Lindsey MacLean, and I'm an award winning short fiction writer. I graduated high school with a 95.5% average, was accepted to UofT, McGill, Queens, and Western, and have been writing essays in my spare time for years. Need an assignment written? I've got you covered. Have a great idea for a story but just can't seem to write that first page? Consider it done. Resumes, articles, and the odd haiku -- I do it all! None of my work has ever received anything less than a 90%, so if you're in need of a writer, look no further. For samples of my work, reach out to me here or text me!
Share This Profile
My Other Profiles
Find Writer in Toronto, Ontario